Complimentary Hot, Home-Style Breakfast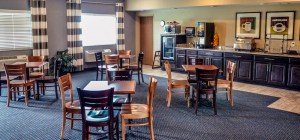 Enjoy breakfast favorites like hot pancakes, sausage and eggs, buttermilk biscuits, fresh fruit, pastries and more.
So let the aroma of fresh brewed coffee greet you as you check your emails, read the morning newspaper or prepare the family for the day's activities. If you have an early meeting, grab one of our ready-to-go breakfasts and quickly be on your way.
So whether you are an early riser or like to sleep in, make sure you start your day off right with Brookstone lodge & Suites complimentary breakfast.  It's still the best way to start the day.
Complimentary Breakfast Features
Free 24 hour Coffee Bar
Breakfast is offered between 6:00 AM and 10:00 AM daily
Breakfast Includes
Make your own pancakes with a press of a button
Jimmy Dean Sausage Patties
Scrambled Eggs and Hard Boiled Eggs
Make your own breakfast burrito
Fresh muffins, donuts and pastries
Variety of hot and cold cereals
Yogurt
Fresh Fruit
Breads, Bagels and English muffins
Milk and juice
Coffee, tea and hot chocolate